New Continuum Exhibit
The original Continuum Exhibit was first on display in LA at the California Museum of Science and Industry in 1978, and came up to the Twin Cities in '79 touring high profile locations including the top of the IDS, Landmark Center, Pillsbury Center, and was featured for the grand opening months of Calhoun Square in 1984, with support and acclaim from notables like Earl Bakken, founder of Medtronic, and Senator Dave Durenberger viewer response.
Continuum Center expanded into other program areas and in '87 the exhibit was laid to rest. Now, there's 40 years' more research and a remake/update is underway, extending the exhibit into arenas including mental health, addiction, the nature of light, and animal intelligence.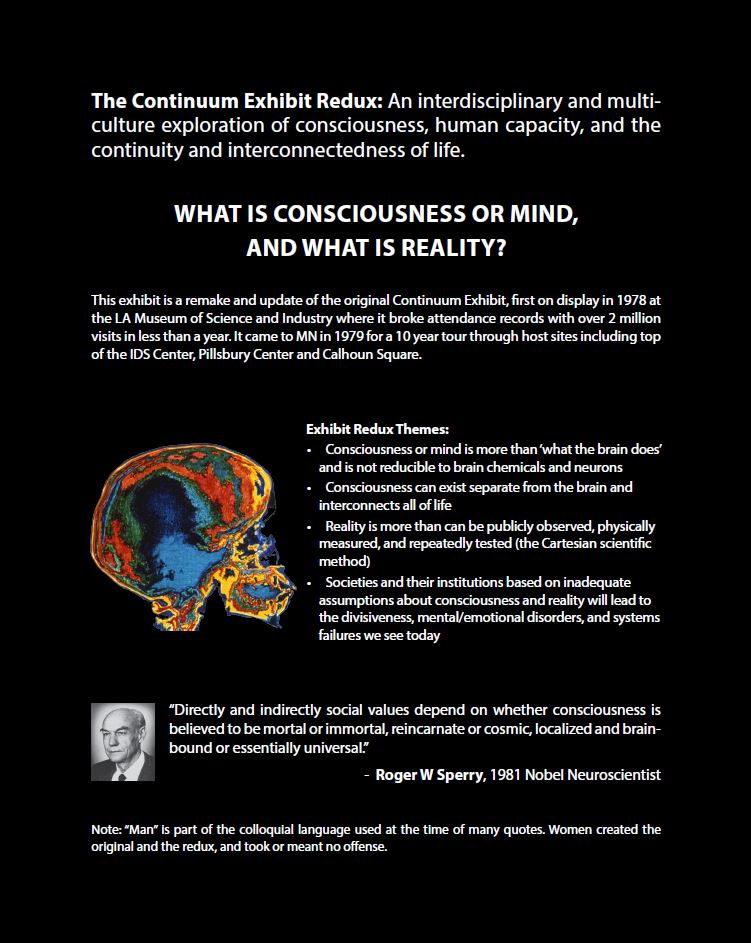 The exhibit when complete in Nov 2020 will be 68 panels. We have been touring the exhibit in phases, first 22 then 34 and it will be 46 when it goes to Morehouse College in Atlanta in May, 2020.
Next Exhibit Monday Feb 24 – Wed March 6, 2020
Gordon Parks Arts Hall
University of Chicago Lab School/U-High
5815 S Kimbark Ave
Chicago Il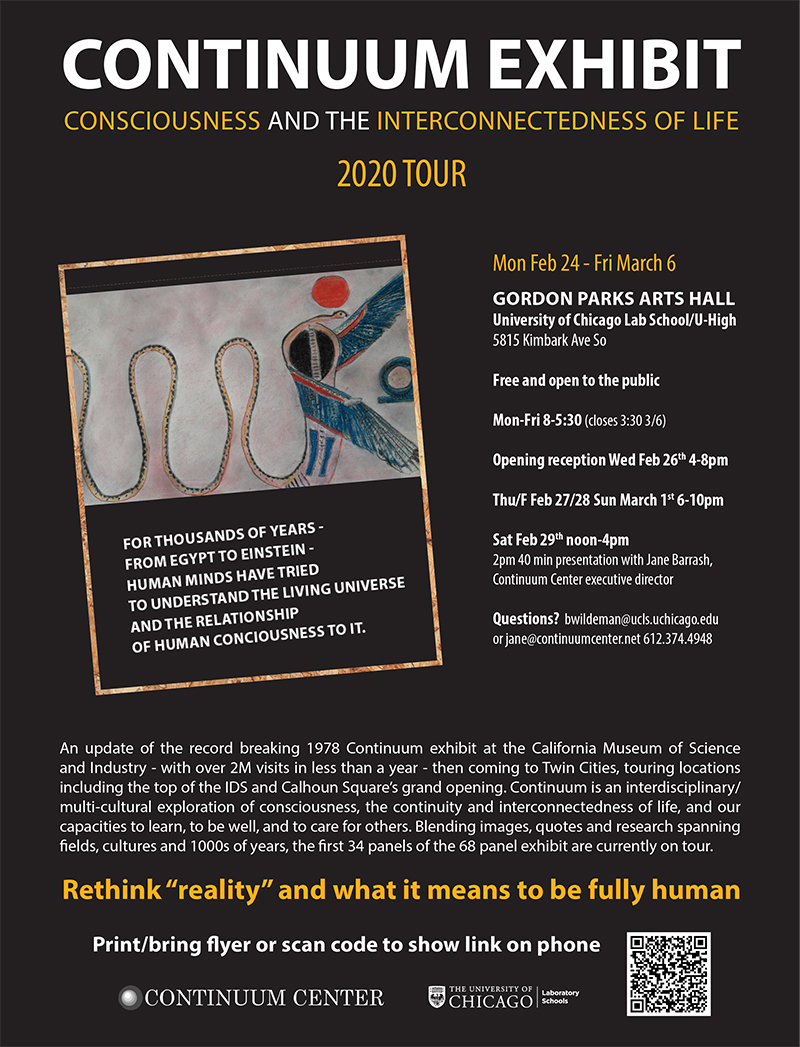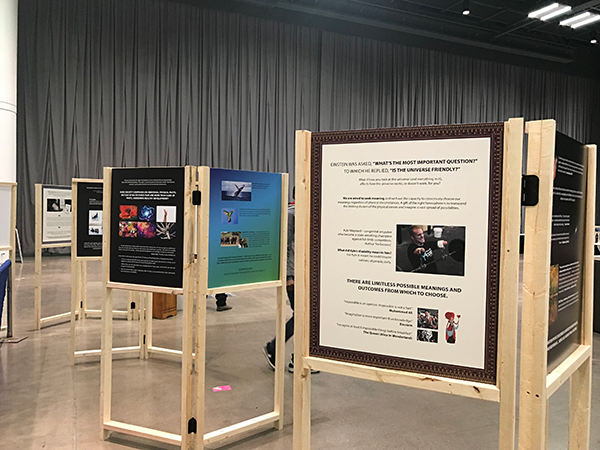 The New Exhibit started as a 22 panel mini-exhibit which had its debut at the annual City of Minneapolis Department of Neighborhood and Community Relations conference in Feb 2019.

The exhibit has toured as 33 panels since July 2019 and will next be at The University of Chicago's Lab school and UHigh before it expands to 46 panels in April when it goes to Morehouse in Atlanta. It will be complete at 68 panels in Nov 2020. Below see photos/comments from past host venues.
See Panels 1-7  (Best if viewed on a larger-than-phone screen. Please note, when on display there is a dense metal sculpture in front of the "Touch Me I'm Solid, Aren't I" panel.)
"On these new terms, science no longer upholds a value-empty existence, in which everything, including the human mind, is driven entirely by strictly physical forces of the most elemental kind. We get a vastly revised answer to the old question "What does science leave to believe in?" that gives us a different image of science and the kind of truth science stands for." 
Nobel neuroscientist, Roger Sperry
Sample feedback/impact from the Richard Green Center exhibition:
After viewing the exhibit at the Richard Green Center in south Minneapolis, Lynda invited Continuum Center Executive Director, Jane Barrash, to give a 2 hour presentation to staff and residents at a 40 bed women's behavioral health center:
Hi Jane,
My personal feedback would reflect the feedback I received from the women there. As you know many of them are victims of domestic violence and abuse. Other instances are profound stories of grief and tragedy. With what you explained to them, and what they were able to practice in the way of the techniques, was life changing for them, as I knew it would be after viewing the Continuum Exhibit.
Other patients reported that prior to being exposed to the information you provided, they didn't really want to stay sober long term necessarily as they could not see a way to experience life without being threatened by intrusive symptoms and/or thoughts. Many reported thereafter that they can make different choices to better engage their present moment for a desired effect and outcome. The time you spent with us was transformational for, from what I understand, all that were present.
Warm regards,
Lynda Iglesia
Josiah, 12 years old, was most impacted by the panels with information/illustration/stories about the brain, our animal/emotional brain, how animals display bravery, compassion, gratitude and love across species, and asked what if we developed more of our animal/emotional brain?
"What I see is people connecting with life showing that are [sic] brain can do more than we think, like a dog that will risk its self for us. If we can see that as a higher skill set that we can reach the world will not be the same. Animals are heart to heart with us."
Jane Barrash and Cynthia Wilson with Josiah and Nyaria
From the director of the Richard Green Center and site host, Cynthia Wilson:
"It was a pleasure to host the exhibit at Central Gym.  Not only did I receive feedback from the teachers, but the students were very glad to see the panels and they have since asked me "where did they go".  I appreciated the new faces that asked "what's the meaning of this" then later came back and said, "I can see us all being connected in some way"."
I would host this again, and I have since downloaded all of the panels into my phone picture gallery, just so I can go back and reflect.  I'm a strong supporter of the exhibit and can't wait for this phenomenon to transform the world."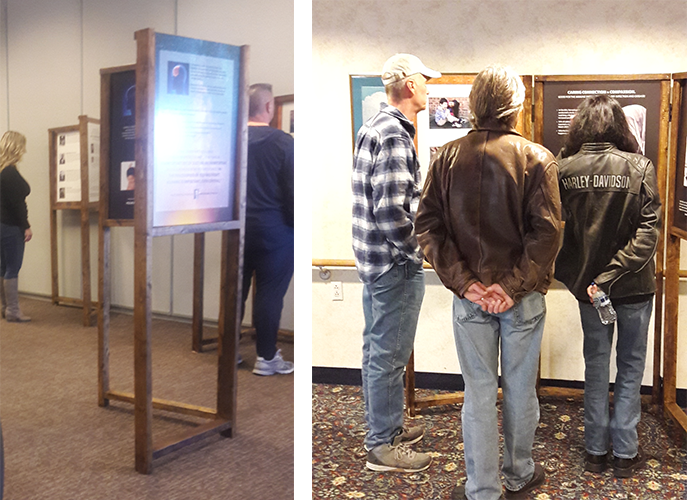 Exhibit at Jones-Harrison Residence May-June 2019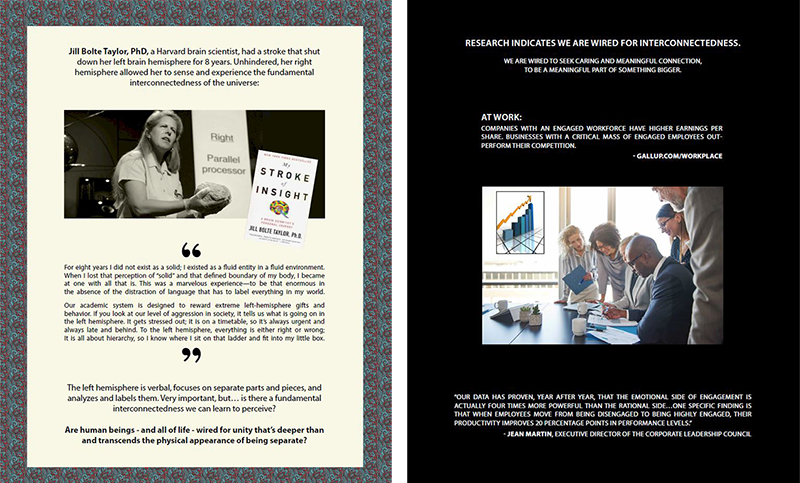 Sample feedback from Jones-Harrison
"Wow. Exciting to see this available to the public. So mind-changing." Cathy Grotenhuis
"This could benefit all people." Steve Grotenhuis
"Thanks. How powerful this information is." Stephanie Smith
Oh how magnificent when all humans will understand our universal oneness with consciousness and each other. Thanks. Awe-inspiring." Scott Simpson
"Wonderful exhibit. I look forward to the remaining panels." Connie Olson
"So wonderful to see such great ideas all in one place." Codell Christenson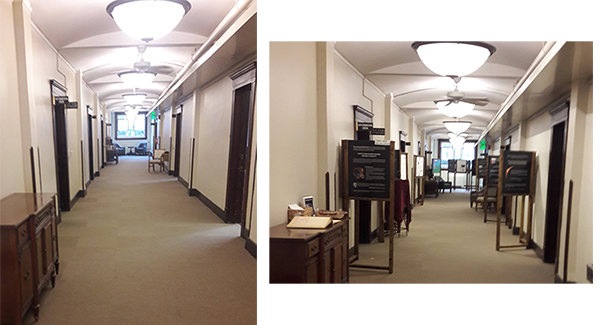 Exhibit at Wisdom Ways and University of St Catherine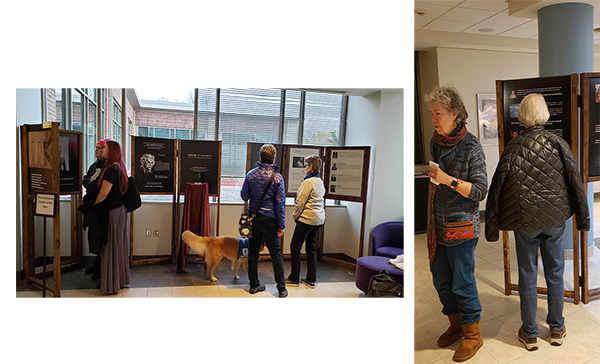 Sample Feedback from University of St Catherine and Wisdom Ways:
"So glad to know there is concerted attention on these ideas. It has long been apparent that our old, classical understanding of "science" is no longer sufficient and leaves us wanting a fuller understanding of the universe and our place in it. Thank you!" Karen Sesy
"Thank you! I spent an hour plus (or 2) with this exhibit's challenges." KW
"Thank you for the beauty held in each word. Wonderful exhibit." Paula Jimenez
"Gorgeous! Thought provoking! Evocative! Such a brilliantly simple idea for display, yet with so much impact! Well done!" C Petting
"Amazing. Engaging. Thought-provoking!" Christine McKenna
"Powerful information will transform life. Thank you for your stand in this world for this information to be accessed." Kyra Christopherson
"A lot of Wisdom and profound meaning." Christy Kirk
"Thank you for this lovely exhibition that clearly and simply raises consciousness with its succinct descriptions of what's "real". Jeanne Cherner
"Mind-bending and exciting!" Thank you" Beth Kendall
"Very interesting and insightful. I'm excited to see the 2nd half of the exhibit [when it's produced]" Thanks" Luke Iknadosian
Continuum Exhibit at University of Chicago Lab School and U-High
Sample viewer comments:
"This exhibit helped me see how teachers can support children to focus! Thanks for your time." Laura Thomas – teacher from Germany
"This exhibit touches a surface and ideas I now want to learn more about." Lauren Moltz '74 – Past board chair, Friends of the Parks
"Thank you for the important work you are doing. The exhibit was amazing and very informational. I learned a lot to take with me for the future and maybe teach future clients." Chelsey Baumann – recent clinical psych graduate
"Thanks for an Intriguing exhibit." Peggy Mason, PhD – UChicago psychology professor (her research is included in the exhibit)
"Very impressive exhibit! If I understand the message I believe it. I struggle to figure things out with my left brain about what is happening with my right brain." Frank Beal – Civic consultant, exec director of Metropolis Strategies 2000-2014
"This is great! So valuable to expand our understandings of reality. Very important work. Thank you for it!" Dawn Renee Jones – Chicago director and playwright, Columbia University theater professor
"This is truly amazing!!" Takiisha – social justice advocate
"Lots to think about here and a real kick in the ass to do so!" Andy Davis '74 – CEO Education Equity
"Thought provoking and useful in the midst of world events, Thanks!" Leila Brammer – Director, UChicago Parrhesia Program for Public Discourse
Speaking to students – Continuum Center executive director Jane Barrash and former Mpls North High Discovery of Self student and soon to be Morehouse graduate and Continuum Exhibit tour coordinator, Edo Walker
"Thank you for sharing this beautiful and amazing exhibit with me and my students. This coordinates perfectly with my neuroscience and behavior curriculum and the lessons I hope to pass on to them." Sharon Housinger – U-High teacher
"Thank you very much. This exhibit was thought provoking and interesting!" Gershon Stein – UHigh student
"Amazing!" Megan + Imamsan – UHigh student
"Thank you so much for sharing!" Ajin – UHigh student
"Thank you! Very inspiring to think of the mind's capacities in this way!" Brent Mix – Philosophy teacher GCE Lab (High) School (Global Citizen Engagement)
"Super interesting!" Zaylie GCE student
"Cool and very interesting" Graham GCE student
"Thank you. This really made me think!" Maggie GCE student
"Thank you for sharing. It was a great experience!!!" Tony Del Campo – 7th grade science teacher
"We are still exploring the ideas raised by the Continuum exhibition – it's a wonderful, provocative collection of ideas and art, and I'm really grateful for the opportunity we had to view it. Thanks so much!" Sam Nekrosius – 8th grade creative writing
"Thank you so much for the thought provoking exhibit and the book." Joan Fiesta – Director, Lab Security
Questions or to arrange a group viewing – info@continuumcenter.net 612.374.4948